SeeConnect
SeeConnect is a freeware program that provides a visual indication to occur on the desktop whenever an active RAS (Remote Access Service) connection exists. Many programs, such as Microsoft's Dial-Up Networking, use RAS when dialing out to make a WAN connection to another computer, such as an Internet connection.
SeeConnect can be configured so that the visual indication provided is either:
(a) changing the background desktop color (for example, from green to yellow)
from: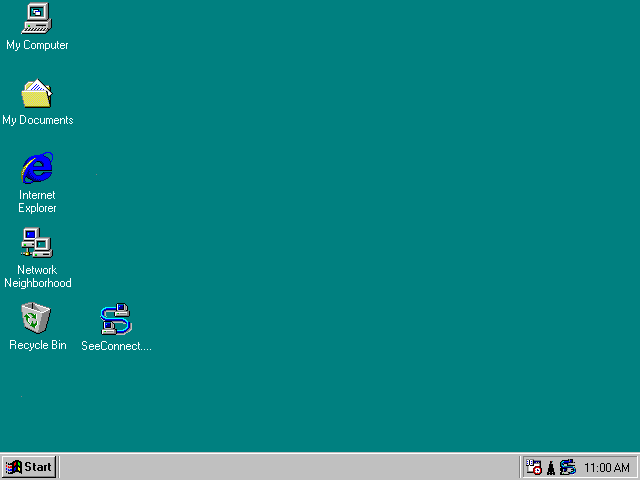 to: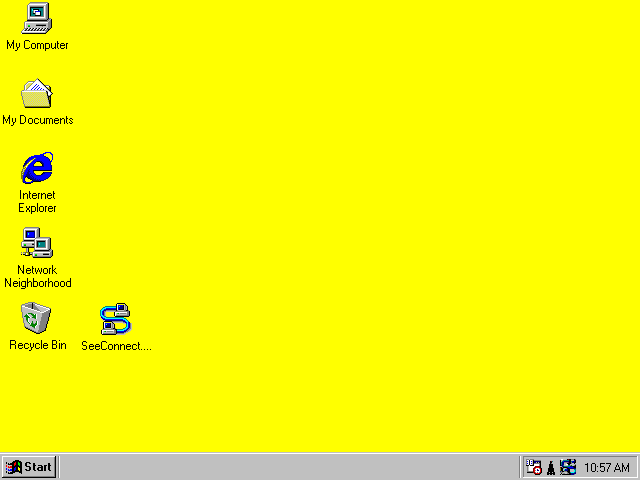 and/or
(b) blinking a button in the taskbar or an icon in the system tray .
If your desktop has wallpaper or some pattern, the background color of the desktop will not appear to change, but the captions for icons on the desktop will have a different background color.
SeeConnect can be run either on a standalone workstation or in client/server mode. When run in client/server mode, the SeeConnect server is normally run on a Windows system that is also running a proxy server. SeeConnect clients are then run on other Windows systems that gain WAN access through the proxy server. The server and client communicate using threaded TCP/IP sockets.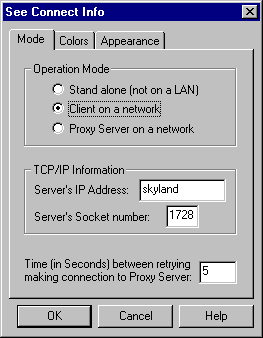 For more information see click here.
From Brett Glass' Help Desk column in InfoWorld 12/22-29/97:
Vince Busam has created a utility called SeeConnect, which remedies the 'invisibility' problem in Microsoft's Dial-Up Networking (DUN) 1.2. SeeConnect can signal that you're online by changing the desktop background color, blinking a button in the taskbar, or placing a blinking icon (easier to see than a nonblinking one) in the system tray.